O'Brien Painting Receives Small Business of the Year Award, Petaluma CA 
Dustin O'Brien, owner of O'Brien Painting, credits his parents, Don and Anthy O'Brien, for instilling in him the value of community service. The owner of O'Brien Painting grew up learning the business by watching, and later working alongside, his father before inheriting the 43-year-old business in 2005.  "They would insist that we get involved in the community," said O'Brien, 37. "It's super rewarding and it makes you feel good. If you give to Petaluma, Petaluma gives back."  O'Brien has been involved in several recent community improvement projects and has contributed his time or donated to several Petaluma nonprofits including COTS, Cinnabar Theater, Petaluma Woman's Club and Peace Officers Association of Petaluma.  For O'Brien's efforts, O'Brien Painting was honored with the Small Business of the Year award at the Petaluma Community Awards of Excellence.  Reprinted with Permission:  Matt Brown, Petaluma Argus-Courier Staff.
PDCC Members Reaching Out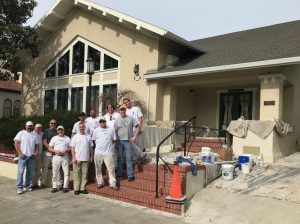 Redwood Empire Chapter Community Improvement Project…Power Washing and Painting the Petaluma Woman's Club.
Thank you to everyone who pitched in to make this community project a success…Bruce Baggenstos, Greg Cato, Mike Dorado, Garret Glass, Kyle Miller, Don O'Brien, Dustin O'Brien, Bob Spurgeon, Ken Stolting and Sherwin-Williams Paints in Petaluma.  Special thanks to Dustin O'Brien for coordinating this project.
The Sacramento Valley Chapter provided support to Wind Youth Services.
Wind Youth Services provide over 12,000 meals a year, over showers, laundry services, hygiene essential, food, water and other survival supplies. Each youth has an Advocate assigned to work with them on life skills, clinical support and family support. Academic as well as employment assistance is also provided. Wind Youth currently has over 200 youths who are actively working with the Youth Advocates. Wind Youth Services provides services to youths living on the street. Nothing good happens living on the streets.